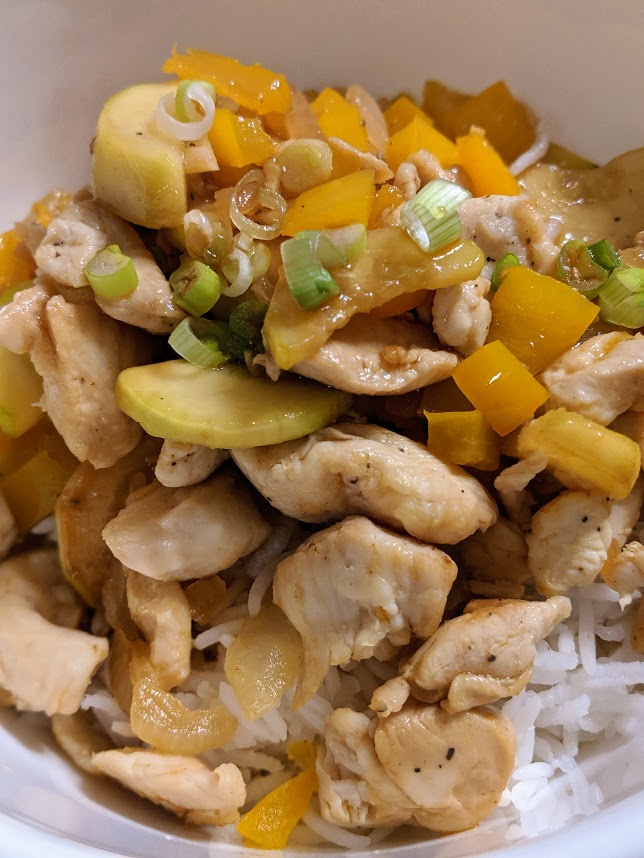 Ingredients
2 tbsp olive oil
Salt and pepper to taste
1 lb chicken breast, cut into bite sized pieces
½ yellow onion, chopped
1 red or yellow bell pepper, chopped
1 zucchini, sliced
2 cloves of garlic, minced

Soy Garlic Stir Fry Sauce
1 clove garlic, minced
1 tsp finely grated ginger
1 tsp Chili Garlic Sauce
1 tbsp rice vinegar
1 cup soy sauce
2 tbsp water
1 ½ tsp sesame oil
1 ½ tsp lemon juice
6 scallions, finely sliced
Instructions
Add olive oil to a large skillet on medium high heat.
Add chicken and season with salt and pepper. Cook for 3 to 5 minutes or until browned and almost cooked through.
Add onion, garlic, and veggies and cook, stirring occasionally, just until crisp tender.
Whisk stir fry sauce and pour ¼ cup over chicken and vegetables and stir gently to combine.
Bring to a boil, stirring occasionally, and let boil for one minute.
Enjoy with either basmati or cauliflower rice! Top with any of the remaining stir fry sauce if desired!
** This recipe makes a lot of stir fry sauce. I save the rest and use it to reheat leftovers.
You should also feel free to add or substitute any veggies of your choice. We've used broccoli, carrots, peas, and cabbage. All are delicious!